Sports Update: Naomi Osaka wins US Open as Serena Williams implodes, labels the umpire 'a thief'
The US Open final descended to farce as Serena Williams' outbursts overshadowed Naomi Osaka's historic win.
The Pride of 🇯🇵!@Naomi_Osaka_ defeats Serena Williams 6-2, 6-4 to become the first Japanese player to win a Grand Slam singles title!#USOpen pic.twitter.com/sNilrZOaNU
NAOMI OSAKA BECAME the first Japanese to win a Grand Slam singles title on Saturday as her idol Serena Williams angrily imploded, calling the chair umpire in the US Open final "a thief".
Osaka, 20, triumphed 6-2, 6-4 in the match marred by Williams's second-set outburst, the American enraged by umpire Carlos Ramos's warning for receiving coaching from her box.
When a second code violation for racquet abuse was handed out to her — along with a point penalty for a second violation — Williams exploded.
She tearfully accused him of being a "thief" and angrily demanded an apology from the official.
sonofthebronx: Serena Williams: "You stole a point from me. You're a thief too." ESPN U.S. Open Tennis: Women's Championship https://t.co/oye1H9Pekp pic.twitter.com/Tp1dStGxNi
"You're attacking my character," she said. "You will never, ever be on another court of mine. You are the liar," she fumed. "You stole a point from me. You're a thief, too!"
Ramos duly handed her a game penalty that put Osaka one game from victory at 5-3 in the second set.
Williams won the next game, and continued her tearful remonstrations with a supervisor on the changeover.
Serena Williams: "There's a lot of men out here that have said a lot of things and because they're a man, that doesn't happen to them." (via ESPN) pic.twitter.com/9MqhnAja20
But Osaka — who displayed not only a stellar game but remarkable poise throughout — held serve to seal a historic win for her country.
Williams, seeking a first Grand Slam title since the birth of her daughter Olympia on September 1 2017, was denied a 24th Grand Slam title that would have matched Margaret Court's all-time record.
As the pro-Williams crowed booed the announcers at the trophy presentation, Osaka was tearing up herself, but Williams urged the spectators to show the young champion respect.
"She played well," Williams said, pausing to compose herself. "This is her first Grand Slam. "I know you guys were here rooting, but let's make this the best moment we can. Let's give everyone the credit where credit is due. Let's not boo any more.
"Congratulations Naomi," said Williams, who later said Osaka played an "amazing" match.
.@serenawilliams instructs crowd to stop booing and celebrate @Naomi_Osaka_'s moment of winning her first grand slam. #USOpen pic.twitter.com/LOAyB42OmQ
When it was Osaka's turn she seemed at a loss.
"I know everyone was cheering for her and I'm sorry it had to end like this," she said.
"It was always my dream to play Serena in the US Open finals," she added, turning to Williams herself. "I'm really grateful I was able to play with you, thank you."
Williams's tantrum overshadowed an outstanding performance from Osaka, who made her second career title a Grand Slam after winning her first at Indian Wells in March.
A match with history at stake for both players got off to a tense start.
Williams blinked first, double-faulting on break point to give Osaka a 2-1 lead.
After a confident hold punctuated by a 106 mph ace Osaka broke again to lead 4-1, silencing the Arthur Ashe Stadium crowd.
They came to life again as Williams gained her first break chance, which Osaka saved with a 117 mph service winner. Williams squandered one more chance before Osaka sealed the hold with another big serve, offering a Serena-style "C'mon!"
It was in the second game of the second set that Williams was warned for receiving coaching, a charge she vigorously denied.
You cannot continue to degrade a person and expect them not to finally pounce back. @serenawilliams has consistently displayed perseverance and grace but she is not to be made a fool of. "Let this be a remind to all… I don't cheat to win, I'd rather lose." #usopen pic.twitter.com/5Vwlebh7yx
Coaching or not? This is the question #Mouratoglou #SerenaWilliams #usopen pic.twitter.com/vHMNwkHSq6
"I don't cheat to win," she said. "I'd rather lose."
However, Williams' trainer Patrick Mouratoglou later confirmed to ESPN that he was indeed guilty of coaching, suggesting Williams may not even have seen his gesture from the court:
She was up 2-1 on the changeover when she spoke again with Ramos appearing to smooth things over, and she finally found a way to break Osaka for a 3-1 lead.
The tranquility didn't last long. When Osaka broke back with the aid of two double faults and a backhand into the net from Williams, the American smashed her racquet to the court. A second code violation came with a point penalty to start the next game that sent her into orbit.
"I didn't get coaching. I haven't cheated in my life. I stand for what's right," insisted Williams as they headed into the sixth game – in which Osaka held at love.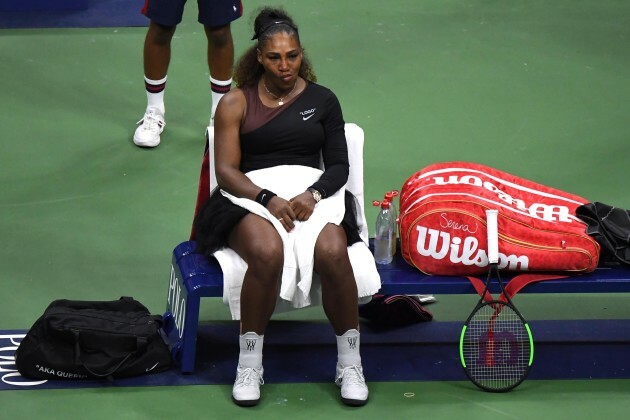 Source: SIPA USA/PA Images
After Osaka broke for a 4-3 lead Williams continued her verbal assault on Ramos, who docked her a game for a third violation that put Osaka up 5-3.
It's not the first time emotional outbursts have cost Williams at the US Open. Her ugly rant at a line judge marred Kim Clijsters's semi-final win over her in 2009 and she infamously called chair umpire Eva Asderaki "unattractive inside" in a tantrum during her 2011 final loss to Samantha Stosur.
Williams said she didn't know if she would have managed to turn things around if the dispute with Ramos had not occurred.
"I feel like she was playing really well, but I feel like I really needed to do a lot to change in that match to try to come out front, to try to come out on top," she said.
"It's hard to say because I always fight till the end and I always try to come back, no matter what."
© Agence France-Presse