Queensland Storms: Severe weather starting to ease but multiple warnings still in place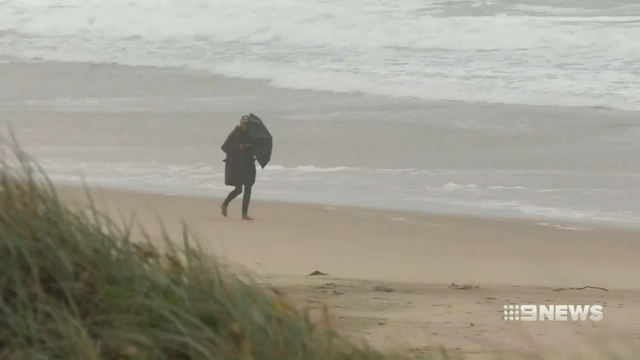 The wild thunderstorms that struck Queensland's south-east this week are beginning to ease and floodwaters are not rising as rapidly, but warnings remain in place for parts of the state.
The Bureau of Meteorology has warned that damaging winds and heavy rainfall are  still predicted for areas around Mackay, Sarina and Nebo that could lead to flash flooding.
Despite that, the severe thunderstorms have all but cleared, with previous warnings for the Peninsula, Tropical Coast and Tablelands districts now all cancelled.
Emergency services authorities are still urging residents to stay away from potentially dangerous trees and to avoid driving, walking or riding through any floodwaters.
Over the past 24 hours, up to 150mm of rain has been recorded across flood watch areas.
While some more localised rain showers are expected for the remainder of the weekend, the BoM said it does not believe river levels will rise past minor flood heights.
EARLIER…
A boy is fighting for life after being crushed by a tree as parts of storm-struck southeast Queensland brace for more unstable weather that will menace the region.
Connor Creagh, 11, was airlifted to the Queensland Children's Hospital in Brisbane yesterday with critical injuries after the tree fell on the Coolabunia property. 
It's believed Connor was playing in a hole, created by an uplifted tree, when another tree fell on him. He suffered serious injuries to his head, neck, leg and pelvis. 
Authorities spend more than an hour trying to stabilise him before he was taken via air ambulance to hospital. 
That incident occurred in the same area where, at the height of the storms on Thursday, a young mother had been forced to use her body to shield her baby when they were caught in the fury of the sudden hailstorm in a car.
Meanwhile, the damage bill from Thursday's wild weather is expected to be hefty, with crops wiped out, animals killed, roofs torn from homes and the power network hit.
Between 50mm and 100mm of rain was recorded in storm-hit parts of the Burnett and Gympie regions yesterday, with the weather bureau predicting similar falls today.
Forecaster Adam Blazak said despite the rain there was fortunately little chance of flash flooding.
Click here to see the latest weather warning for your area.
"There's a bit of uncertainty there with how much moisture is in the soil at the moment…we're not sure how much they picked up on Thursday," he said.
The rain is expected to ease into tomorrow, with just isolated showers expected across southeast Queensland by the start of the working week.
Emergency Services Minister Craig Crawford said recovery efforts in the Gympie area had been bolstered by the arrival of 49 SES volunteers from the Brisbane Region who could be deployed until early next week.
"I'd like to salute our hard-working volunteers who have been on the ground helping communities through the recovery phase since yesterday's storms," Mr Crawford said.
The SES received nearly 500 calls for assistance, including trees down, hail damage, leaking roofs and other structural damage, with Gympie, the Fraser Coast and South Burnett the hardest-hit areas.
Meanwhile, flash flooding is forecast for parts of northeastern NSW over the weekend as a weather system developing off Queensland heads south.
The Northern Rivers and Mid North Coast are tipped to experience heavy rainfall and possible flooding on Sunday, according to the Bureau of Meteorology.
"We're expecting rainfall to peak on Sunday and the first part of Monday in association with the potential for a trough to move from Queensland further south into NSW," BOM forecaster Katarina Kovacevic said.
Ms Kovacevic said due to the nature of the weather system, it was still unknown exactly what areas would be most affected.
© Nine Digital Pty Ltd 2018