Pompeo, Mnuchin drop hammer on Iran, following up on Trump's 'Game of Thrones' warning
They didn't use a "Game of Thrones" meme like their boss, but Secretary of State Mike Pompeo and Secretary of Treasury Steven Mnuchin on Monday detailed the Trump administration's new sanctions on Iran and warned the Islamic Republic to "act like a normal country" or "see its economy crumble."
The new round of sanctions on Iran's energy, banking and shipping sectors were foreshadowed Friday, when President Trump tweeted out a parody poster of the popular show with the ominous warning "Sanctions are coming." Those measures took effect overnight on Monday, and target more than 700 individuals, banks, aircraft and vessels.
"The Iranian regime has a choice: it can either do a 180-degree turn from its outlaw course of action and act like a normal country or it can see its economy crumble," Pompeo said at the news conference.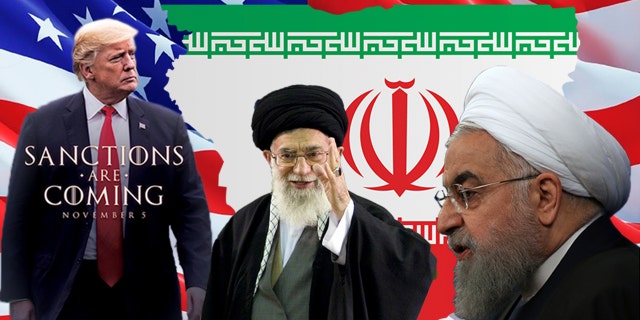 President Trump in May announced the U.S. would pull out of the 2015 nuclear accord the Obama administration signed with Iran, citing Tehran's failure to uphold its end of the bargain. The U.S. imposed the first round of sanctions on Iran in August and Monday began the second round of deeper punishments.
The sanctions cover 50 Iranian banks and subsidiaries, more than 200 individuals and shipping vessels, Tehran's national airline, Iran Air, and more than 65 of its aircraft, a statement from the administration said.
"Iran's leaders must cease support for terrorism, stop proliferating ballistic missiles, end destructive regional activities, and abandon their nuclear ambitions immediately if they seek a path to sanctions relief," Mnuchin said. "The maximum pressure exerted by the United States is only going to mount from here. We are intent on making sure the Iranian regime stops siphoning its hard currency reserves into corrupt investments and the hands of terrorists."
Treasury Under Secretary Sigal Mandelker said more than 70 banks and their foreign and domestic subsidiaries were designated for sanctions.
"As the Iranian people suffer from fiscal mismanagement and a plummeting rial, the Iranian regime abuses the country's banking system to enrich its elite and finance repressive state institutions," Mandelker said. "The IRGC and other destabilizing entities leverage their access to the global financial system to fund proxies fighting in Syria, Iraq and Yemen, subsidize the proliferation of WMD or their means of delivery, and arm those who abuse the human rights of Iranian citizens."