Pete Davidson's 'SNL' castmate Kenan Thompson addresses Dan Crenshaw joke: He definitely missed the mark'
Kenan Thompson spoke out about his "Saturday Night Live" co-star Pete Davidson's joke about Dan Crenshaw, a Texas Republican running for Congress who lost an eye while serving in the U.S. military, saying the comedian "definitely missed the mark."
Thompson, whose father served in the Vietnam War, said while he "would never necessarily go there" with a joke about veterans, he defended Davidson calling him a "humble dude" with a "big heart."
"He [Davidson] definitely missed the mark. I think he was more so commenting on the fact that the joke maybe didn't land as hard as he wanted to as opposed to being like I don't care about veterans," Thomspon said Monday on NBC's "Today."
PETE DAVIDSON MOCKS REPUBLICAN CONGRESSIONAL CANDIDATE, FORMER NAVY SEAL WHO LOST AN EYE IN AFGHANISTAN
He continued, "My father's a veteran, Vietnam, and I personally would never necessarily go there, but it's tough when you're fishing for jokes — like that's how standups feel like there's no real filters out there in the world when they're trying to go for a great joke or whatever and we try to respect that but at the same time, when you miss the mark, you're offending people so you have to really be a little more aware in my opinion."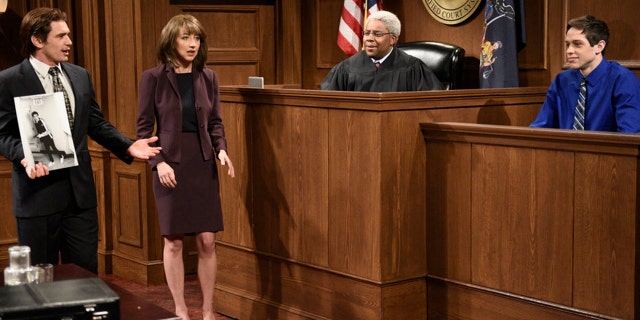 The comic then defended Davidson calling the backlash over his joke "an unfortunate outcome."
"I think Pete's a very humble dude and he's got a big heart and I don't think he goes out to offend people, but stand-ups, they're the ones who help us laugh through the most awful things in the first place so they're always fishing in weird places and that was an unfortunate outcome."
On Saturday's episode of the sketch series, Davidson appeared on the "Weekend Update" segment, where the 24-year-old comedian gave his "first impressions" of some candidates ahead of Tuesday's midterm elections.
He giggled as an image of former Navy SEAL Crenshaw, who wears an eye-patch on his right eye after being injured by an I.E.D. in Afghanistan, flashed across the screen.
"You may be surprised to hear he's a congressional candidate from Texas and not a hit man in a porno movie," Davidson mocked. "I'm sorry, I know he lost his eye in war or whatever…"
On Sunday, Crenshaw responded to the dig on Twitter saying: "Good rule in life: I try hard not to offend; I try harder not to be offended. That being said,  I hope @nbcsnl recognizes that vets don't deserve to see their wounds used as punchlines for bad jokes."
Davidson, 24, has also made headlines lately after his engagement to pop star Ariana Grande ended last month.