Hurricane Michael death toll rises to 17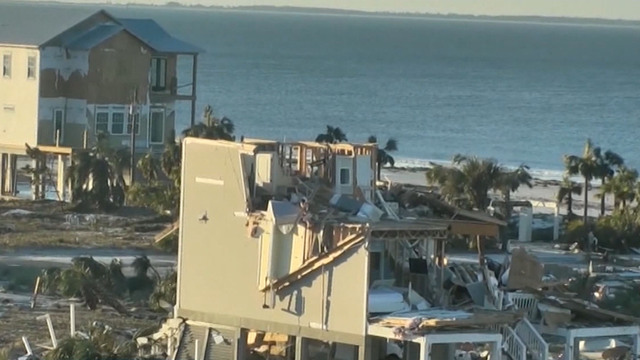 The death toll from Hurricane Michael has risen to to 17 across four US states as rescue crews hampered by communications failures searched the hardest-hit communities in the Florida Panhandle.
The number of fatalities was expected to rise further as rescuers go door to door and comb through the rubble in oceanfront communities such as Mexico Beach, Port St. Joe and Panama City that bore the brunt of the storm's wrath.
The dead include at least eight people in Florida, five in Virginia, three in North Carolina and one in Georgia.
FEMA crews have been using bulldozers and other heavy equipment to push a path through debris to allow rescuers to probe the rubble with sniffer dogs.
Michael blew ashore near the small Florida Panhandle town of Mexico Beach on Wednesday afternoon as one of the most powerful storms in US history, with winds of up 250km/h. It pushed a wall of seawater inland, causing widespread flooding.
The storm, which in less than two days grew from a tropical storm to a Category 4 hurricane on the five-step Saffir-Simpson scale, tore apart entire neighbourhoods in the Panhandle, reducing homes to naked concrete foundations or piles of wood and siding.
Except for the emergency-911 system, authorities in Bay County, the epicentre of the hurricane disaster, were virtually without telephone or internet service until late in the day on Friday, making communications internally and with the public difficult.
Search teams have been going door-to-door in Mexico Beach and other hard-hit areas of the county looking for possible storm victims who may have been trapped or killed.
Bay County officials previously said 56 people had chosen to stay in their homes in Mexico Beach and that search and rescue teams were trying to account for those people.
Social media websites were filled with messages from people trying to reach missing family members in Florida's Bay and Gulf Counties.
By Friday morning the remnants of Michael had moved into the Atlantic Ocean northeast of Norfolk, Virginia, but still could bring up to 13cm of rain to parts of New England, the National Hurricane Center said.
About 1.5 million homes and businesses were without power from Florida to Virginia on Friday, according to utility companies.
It could be weeks before power is restored to the most damaged parts of Florida.
The number of people in emergency shelters was expected to swell to 20,000 across five states by Friday, said Brad Kieserman of the American Red Cross. The Coast Guard reported rescuing 129 people.
Even as rescuers searched the rubble for survivors or the deceased, some residents of Mexico Beach were nervously trickling back on Friday, expressing hope the place, nicknamed "the Forgotten Coast," would not change too much as it rebuilds.
© RAW 2018