Facebook says it 'mistakenly' removed rabbi's story about harassment by Farrakhan supporters
Facebook said Friday that it "mistakenly" removed a New York City rabbi's story about being harassed a day earlier by supporters of Nation of Islam leader Louis Farrakhan.
Rabbi Avram Mlotek of Base MNHTN posted his account on the social media site about an incident on a train where he was confronted by a man who called him a "f—— fake" Jew and "impostor."
"This man told me repeatedly that Israel was not mine, that I was a fraud, and that Jews are responsible for the mess we find ourselves in today in the city of New York and all over the world," Mlotek wrote in a now-viral post.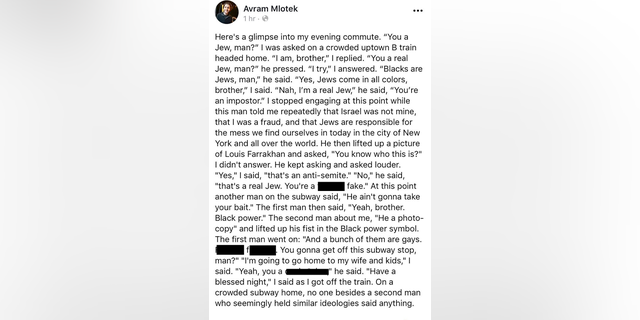 The man who approached the rabbi went on show a photo of Farrakhan and asked the rabbi if he knew who Farrakhan was. The rabbi said he told the man that Farrakhan is an anti-Semite.
"No, that's a real Jew. You're a f——- fake," came the man's reply.
Farrakhan has a long history of making anti-Semitic remarks, including once praising Nazi Germany leader Adolf Hitler as "a very great man."
The most recent controversy involves Farrakhan commenting on Twitter that "I'm not an anti-Semite. I'm anti-Termite."
TWITTER GIVES LOUIS FARRAKHAN A SLAP ON THE WRIST AFTER POSTING ANTI-SEMITIC 'SATANIC JEW' VIDEO
Mlotek said another man on the train joined in to support the first man, with both of them lifting their fists in the Black Power symbol.
"He a photo-copy," said the second man. "And a bunch of them are gays. F—ing f—-ts. You gonna get off this subway stop, man?" said the first man again.
Mlotek said the man called him a "c——-" as he got off the train. He added that no one else aboard the train spoke out during the incident.
After the rabbi's post gathered attention, it was struck down by Facebook.
Mlotek wrote in a separate post that the story was removed because it "violates community standards."
"I've asked for their decision to be reviewed but for the time being the post does not appear when you search for it on my wall," he said. "Hopefully this will be sorted and it will be returned shortly but let's just say there's something wrong with the algorithm, Mark Zuckerberg, if Facebook can't differentiate between hate speech and reporting hate speech."
A Facebook spokesperson told the Jewish Journal that the Rabbi's post was "mistakenly" removed and has been restored. The post doesn't appear to be live.