Sports Update: We don't deserve Aaron Rodgers
There are some who doubt the Green Bay Packers quarterback but those people are idiots, writes Steve O'Rourke.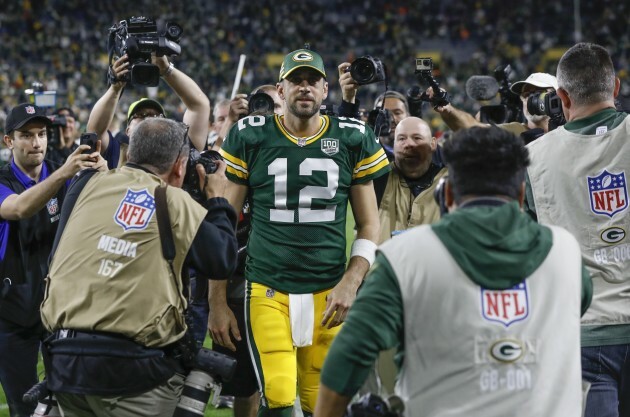 Source: Mike Roemer
HE KNOWS ABSOLUTELY nothing about it, but I have a long standing Twitter beef with Sports Illustrated's NFL analyst Andy Benoit.
I can't remember exactly what it was that put Benoit on my radar. It may have been that time he listed 15 mostly terrible quarterbacks — the likes of Brock Osweiler, Geno Smith, Drew Stanton, and Ryan Mallett to give you a taste — as better than Colin Kaepernick and used it as justification for him no longer being in the league.
Or it might have been when he took to Twitter to opine that 50% of the world's population didn't matter. He deleted the tweet, but the internet never forgets.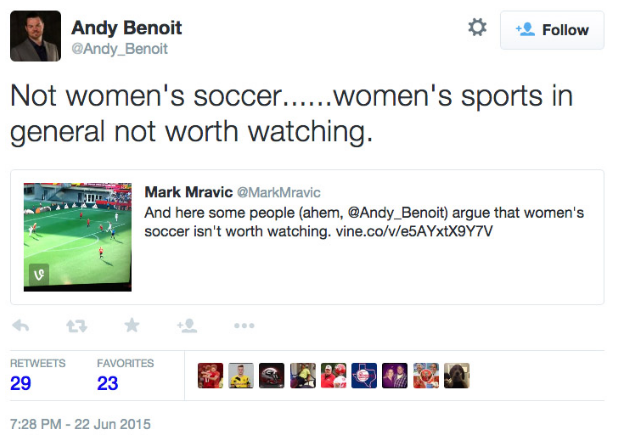 He was definitely someone who induced eye rolls so hefty I could see into the middle of last week by the time he inspired the headline 'This Andy Benoit Take About Russell Wilson Is So Fucking Stupid I Want To Die' on Deadspin last December.
Whatever kicked it off, I have spent the time since subtweeting Benoit, all completely unbeknownst to him. I don't even follow him but, the but the nature of NFL twitter means that someone inevitably ends up sharing his tweets on my timeline.
Now, if I was feeling especially generous, I would put his musings down to honestly held beliefs that just happen to be wrong. We're all susceptible to that, myself included.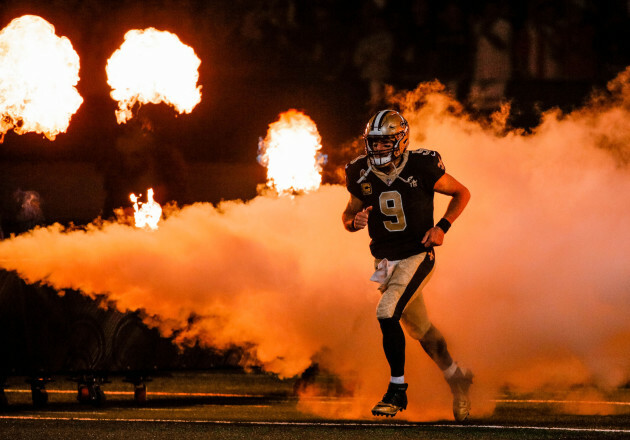 New Orleans Saints quarterback Drew Brees takes the field against the Tampa Bay Buccaneers last Sunday

Source: SIPA USA/PA Images
I mean, I predicted the Saints would reach the Super Bowl this year then watched them lose in week one to a team I felt had one of the worst rosters in football and would end up sacking their coach and moving on from their quarterback at the end of this season.
Those two things may still happen because, as the saying goes, it's not how you start it's how you finish, but what won't change is the fact I gave my analysis in good faith.
However, Benoit has developed something of a reputation as a Bad Takesman, and the thing about the Bad Takesmen of the sporting world — the likes of Benoit, Skip Bayless and Colin Cowherd — is that, to get the required reaction, each musing most be more molten than the last.
And boy did Benoit set fire to the whole damn building in August of this year when he tweeted:
Aaron Rodgers's reputation is a reminder of how winning a Super Bowl early in your career sets a positive narrative for life.
It's hard to know where to start with that tweet. Not winning a Super Bowl hasn't stopped Jim Kelly or Dan Marino being widely regarded as top-10 all-time quarterbacks, so the idea that you have to lift the Vince Lombardi to be considered great is nonsense.
And winning one doesn't propel you to the top of the rankings either. Joe Flacco and Nick Foles both have one and Eli Manning has two. Nobody is putting them anywhere near the likes of Kelly, Marino, or Rodgers.
Secondly, the idea of Rodgers benefiting from a positive 'narrative' is a nonsense. He's had 10 seasons in the top-10 in passer rating in the league, seven of which came after he won the Super Bowl.
He is the all-time leader in adjusted net yards per attempt with six of his nine seasons in the top-10 coming post-Super Bowl.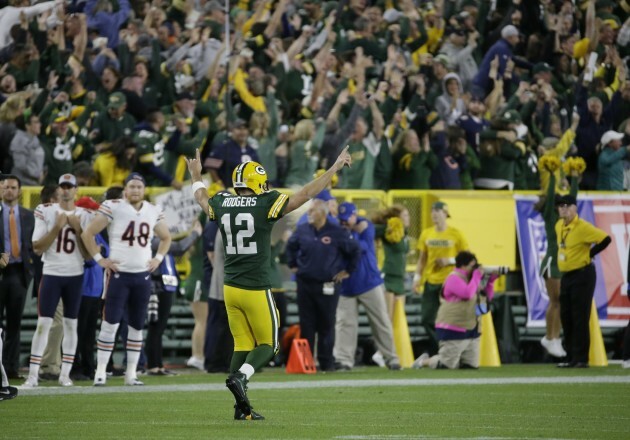 Source: Mike Roemer
And no player in the history of football has a lower career interception rate than his 1.8%. It's clear that it's not just that Rodgers has benefited from a good narrative thanks to a Super Bowl win. His stats following that success tell you he's brilliant.
So if you think Rodgers' positive narrative comes from one Super Bowl win and not his exceptional play week-in, week-out, you probably need to log out of Twitter.
Last night, he brought his team from 20-0 down to beat the Chicago Bears 24-23… and he did it on one leg having left the game with a knee injury and against Khalil Mack putting in a defensive performance for the ages.  
His fourth quarter play alone was majestic, going nine for 12 for 212 yards and three touchdowns and, even as a neutral, it was incredible to watch.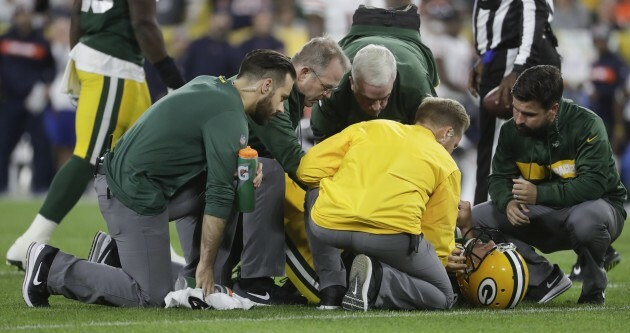 Source: Morry Gash
The prettiest pass was probably his 39-yard pass to Geronimo Allison. But there was very little wrong with his 51-yard connection with Davante Adams or his throw to Randall Cobb who went 75 yards for the game-winning score.
Brady, Gronk, Patrick Peterson, Mack and Von Miller. That we happen to be alive in an era when so many all-time greats across a myriad of positions are still in the league is something we probably take for granted.
But Rodgers is the icing on the cake and the cherry on top. We simply don't deserve a player who can do the things he can with his arm and his feet.
The Packers' say it's too soon to know if Rodgers will play in week two, but that their Super Bowl hopes ride and die with number 12 is a take so cold it could well have sunk the Titanic.
Let's just enjoy him while we still can.
The42 is on Instagram! Tap the button below on your phone to follow us!