Sports Update: Poll: Who will win tonight's Nations League clash between Ireland and Denmark?
Martin O'Neill's got their campaign off to a disastrous start last month.
HISTORY SUGGESTS THAT when their backs are to the wall, the Republic of Ireland tend to produce performances of character, integrity and grit.
Cast your mind back to that match in Cardiff 12 months ago when James McClean's second-half goal against Wales secured Ireland's spot in the 2018 World Cup qualifier play-offs.
Martin O'Neill's side face considerably more doom and gloom this time around when they welcome Denmark to the Aviva Stadium this evening.
A 4-1 drubbing in the Welsh capital last month was a low point of the inaugural Uefa Nations League campaign and the result set in motion a series of leaks and fall-outs that rocked the Irish camp.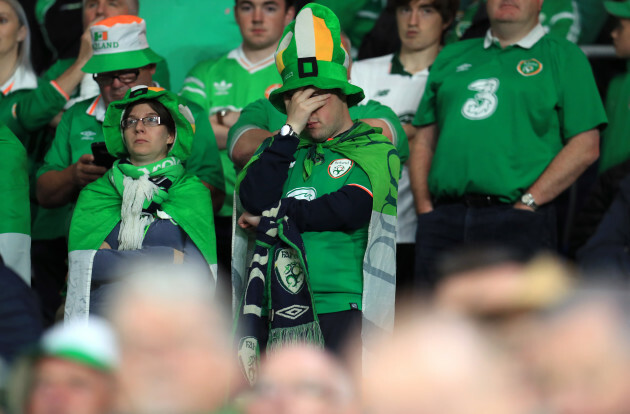 Ireland left Cardiff beaten and humiliated as Wales exacted revenge.

Source: Mike Egerton
A victory against last winter's tormentors will be crucial if Ireland are to get back on track before they face Wales on Tuesday.
The Danes return to the scene where they meted out a 5-1 hammering in the aforementioned World Cup play-offs and dashed any hopes of Ireland's return to the global showpiece for the first time in 16 years.
O'Neill will have Harry Arter to call upon as he rejoins the squad, while Declan Rice remains in the international wilderness.
So, can Ireland get their campaign back on track with a win, are we set for back-to-back defeats to our Danish rivals, or will we see a draw for the first time in over a year at Lansdowne Road?
Who will win tonight's match?
Poll Results: