Sports Update: Fenton welcomes 'positive' experimental rules to 'try to improve the game as a spectacle'
The four-time All-Ireland winning midfielder is interested to see them in action.
STAR DUBLIN MIDFIELDER Brian Fenton sees positives in the new rule changes the GAA are proposing to experiment with in Gaelic football.
But that said, he's interested to see them in action before he forms a full opinion.
Last week, the GAA's standing committee issued five proposed rule changes to be considered. A restriction in handpasses, a plan to have all sidelines kicked forward, the introduction of an attacking mark, the implementation of a sin bin and a new kick-out rule involving zoning are all to be trialed going forward.
"I think it will be interesting to see how they all go," the 2018 Footballer of the Year nominee said at the AIG Dublin GAA jersey launch today.
"I'm not sure if all of them will get in, or any of them will get in but look, anything to promote the game as a spectacle and as a skills-based game. You look at hurling now, it's a joke, the skills of the game. To promote football in that regard would be great I think."
The kick-out rule involving zoning is one which surely appeals to him, encouraging more and more fielding in the middle of the pitch, something Fenton really enjoys.
"Look, if there's a high ball there to be won I'll hopefully challenge in the best way I can," the Raheny man continued. "I love that stuff! I used to watch it — Ciaran Whelan was the idol, you'd look at Darragh O'Sé.
"High fielding and high catches just lift the stadium, they lift everyone. Players talk about it, they lift momentum. I'm always trying my best and working with the goalkeepers to try and practice that.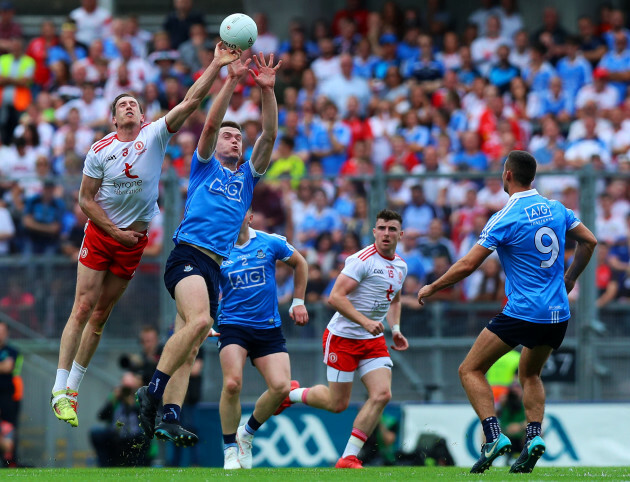 Fielding in the 2018 All-Ireland final.

Source: Tommy Dickson/INPHO
"The new rules, I'm not sure. Do you put fast, small guys in there who can break the space because it's a lot of space or do you put four big lads in there and just live off the breaks. I don't know how it's going to work. 
"We'll see how it goes, we'll try it out. If there's a high ball there to be won, I'll try my best!"
Another experimental rule Fenton spoke about was the handpass restriction one. 'To introduce a restriction of three consecutive passes of the ball with the fist or open hand by players of the team in possession,' is the exact wording.
Mayo's Aidan O'Shea told The42 earlier this week that he thinks three may be a little bit tight and Fenton agrees.
"You're watching games back and trying to visualise it," he continued.
"I actually re-watched the All-Ireland final back last week and the new rules had just been released. I was trying to imagine, 'Oh Jesus, he might have to kickpass it now….' It's a funny one.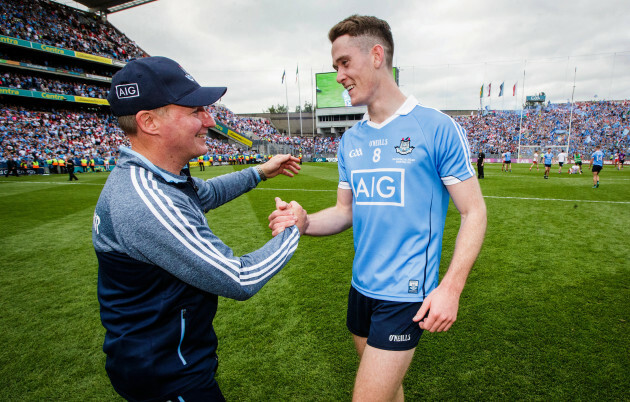 With Jim Gavin after the final win.

Source: Ryan Byrne/INPHO
"If you're trying to break down a defensive team in particular, there's a lot of handpassing. If you're trying to keep possession or control a certain part of the game, there's a lot of handpassing naturally.
"I'm all for kickpassing as well, I love it. I think it can just completely split a team open. If there's a rule to kickpass, I think it's a good thing. Maybe limiting the handpass to three might be a bit much but to promote the kickpass is a very positive one."
He added: "For us, as Dublin footballers, we don't go out saying, 'Just handpass the ball, just handpass the ball.'
"It's always just play it as you see it and if the kick is on, kick the bleedin' ball. Yeah, I don't know. I think it will be interesting to see how they all go."
The proposed rule changes are generating plenty of conversation. Earlier in the week, O'Shea shared his uncertainty on some of them but says he is interested to see how they pan out.
"I think the game is fine the way it is, we just have a team that's really, really good at the moment," he added though.
Monaghan midfielder Darren Hughes meanwhile slammed some of the proposed changes at the weekend, labelling them as 'embarassing' and saying that there is 'no logic to it at all'.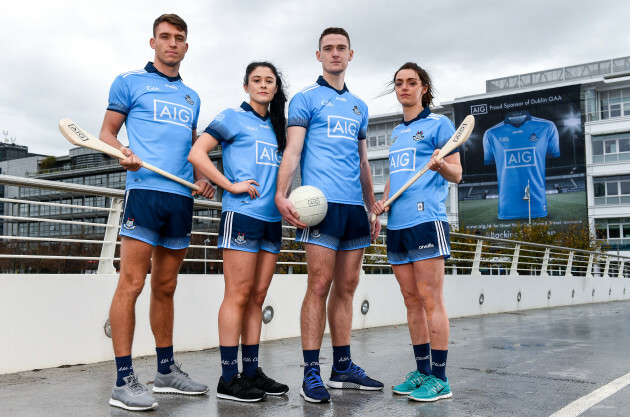 Dublin stars Crummey, Olwen Carey, Brian Fenton and Eve O'Brien.

Source: Sam Barnes/SPORTSFILE
And Fenton, a key member of that 'really, really good' Dublin team, like O'Shea, wouldn't come down on them just that hard.
"Look, everyone has their own opinion of course," he smiled, before adding that it would have been nice to have an active inter-county player on the Standing Committee.
It comprised of David Hassan (Chair), Tracy Bunyan (Sec), Pat Daly, Seamus Kenny, Brian Cuthbert, Michael Delaney, David Collins, Alex McQuillen and Frank Murphy.
"I think it's important to take players into account. They're obviously on the ground and play the game," Fenton added.
Dublin stars Brian Fenton, Chris Crummey, Olwen Carey and Eve O'Brien were on hand today to help Dublin GAA and sponsors AIG Insurance to officially launch the new Dublin jersey at AIG's head office.
Subscribe to our new podcast, Heineken Rugby Weekly on The42, here: