OPEC Oil Provide Cuts Throw Lifeline To Sugar's Ethanol
The United States may despise OPEC for its manipulation of the oil market, but sugarcane growers in neighboring Brazil are most happy with the cartel for making it a winning year for them, despite a bumper crop and wet weather.
The reason cane growers are fans of OPEC: ethanol.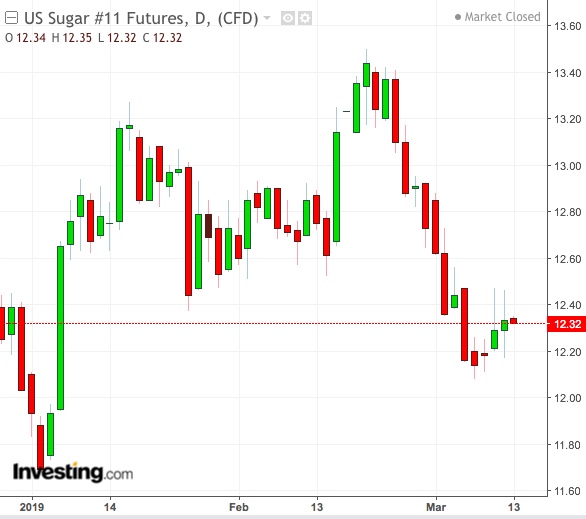 Raw sugar is the only so-called soft commodity posting gains this year, thanks to demand for the sugar-derived ethanol, the biofuel that is a mandated additive to gasoline in the U.S. and also in top sugar-growing country Brazil.
Brazil has a 27% mandate for ethanol in its gasoline, far higher than the 10% imposed on most U.S. motor fuels. That has traditionally prompted Brazilian sugarcane growers to focus more on the energy industry than food for their market, a strategy paying dividends with this year's powerful rally in crude oil.
New York-traded raw sugar futures are up 3% for 2019, in contrast with other soft commodities that are showing a lackluster performance: a 1% drop in orange juice, a 5% slide in coffee and 8% losses in cocoa.
Ethanol itself is more than 4% higher on the year, though that's nowhere near the 25% gain in U.S. crude.
While Investing.com's daily technical outlook suggests a "Strong Sell" for ethanol futures traded on the Chicago Mercantile Exchange, weather and crop conditions reported out of Brazil indicate fundamentals that could add to gains. And if OPEC kingpin Saudi Arabia continues with its historic production cuts to boost crude prices, CME ethanol might gain even more.
For raw sugar futures, the recommendation is also a "Strong Sell", with prices still under the 10-day Moving Average due to weakness from earlier in the year.
Mike Seery, technical analyst at Seery Futures in Plainfield, Illinois, noted in a post last week that volatility in raw sugar was rising, a sign of potential strength in the near-term. Seery wrote:
Weather could play a huge role too in continuing to support both sugar and ethanol.
Some weather models in Brazil's Center-South sugarcane areas were indicating wetter-than-usual conditions in the first months of the upcoming season, creating conditions that would favor ethanol over sweetener production, Bloomberg reported this week.
While more rains would benefit growth of cane hit by drought in December and January, they would also probably lower sucrose levels and therefore yields, the report added.
Luiz de Carvalho, director at Brazilian sugar consultancy Canaplan in Sau Paulo, was quoted saying:
Carvalho added that with India, Thailand and Europe all cutting their sugar output this year, Brazil will once again be driving global prices.
The increasing ethanol play in sugar comes as bumper stockpiles of the sweetener from weak demand earlier in the year continue to hang over the market.
The U.S. Department of Agriculture reduced its outlook for sugar imports in the 2018/19 crop year last week, as it slightly raised its domestic production forecast.
The USDA put the closely watched stocks-to-use ratio at 13.6 for the crop year through end-September, down from last month's forecast of 14.6 and from 16.1 in 2017/18.
Sugar Winning Among Soft Commodities
Fundamental Outlook Beats Strong Sell Calls
Ethanol Play Could Offset Bumper Sugar Stocks