Hurricane Florence: More than one million people evacuate as monster storm nears US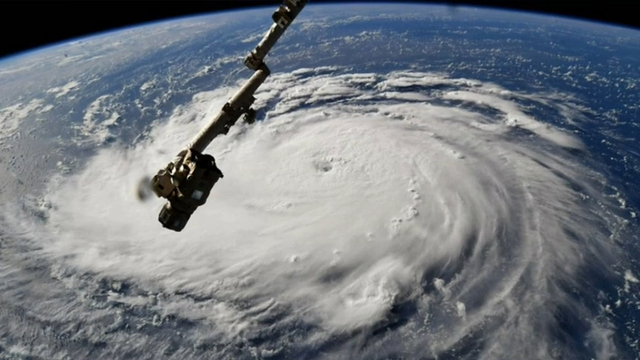 More than one million people have fled toward higher ground in a mass evacuation ordered three days before the expected arrival of Hurricane Florence.
With maximum sustained winds of 220 km/h, Florence was due to grow even stronger before making landfall on Thursday, mostly likely in southeastern North Carolina near the South Carolina border, the National Hurricane Center in Miami said.
Authorities also warned of the potential for Florence to unleash prolonged torrential rains and widespread flooding across several states.
"Florence is expected to be an extremely dangerous major hurricane through Thursday," the NHC said.
NHC Director Ken Graham also warned of "staggering" amounts of rainfall that may extend hundreds of miles inland and cause flash flooding.
Forecasts call for between 25 and 38 cm of rain in the hardest-hit areas, possibly more if the storm stalls over land, as expected, Mr Graham said.
Virginia's emergency operations chief, Jeffrey Stern, told reporters that residents should brace for "something that no one in Virginia has experienced in their lifetimes."
North Carolina Governor Roy Cooper told a news conference his state was in "the bull's eye."
Mr Cooper and his counterparts in South Carolina, Virginia and Maryland all declared states of emergency.
Jittery residents in the Carolinas have begun the rituals of disaster preparation – boarding up windows and stocking up on groceries, water and petrol.
South Carolina Governor Henry McMaster has ordered an estimated one million coastal residents in his state to move inland.
Mandatory evacuation orders also were issued for more than 300,000 people in North Carolina and Virginia.
US President Donald Trump has canceled a political rally planned for Friday in Jackson, Mississippi, over safety concerns related to Florence, his campaign said.
Mr Trump said in a Twitter message he has spoken to the governors of North and South Carolina and Virginia, adding: "Federal government stands by, ready to assist."
In Holden Beach, North Carolina, in the storm's path, longtime residents were busy preparing.
A local BP service station ran out of petrol for about two hours on Monday as motorists rushed to fill up their tanks.
"People are getting frantic," assistant manager Nadine Schrock said, adding her shop also sold out of cases of bottled water.
The US military said it was sending an advance team to Raleigh, North Carolina, to coordinate with state and local authorities.
It said about 750 military personnel would be designated to provide support.
The US Navy said it was sending nearly 30 ships from coastal Virginia out of port to ride out the storm.
Hurricane Florence could inflict the hardest hurricane punch the Carolinas have seen in more than 60 years.
North Carolina has been hit by only one other Category 4 storm since reliable record keeping began in the 1850s. That was Hurricane Hazel in 1954.
In comparison, Florida, which is closer to the equator and in line with the part of the Atlantic where hurricanes are born, off the African coast, has had at least five hurricanes in the past century of Category 4 or greater, including Hurricane Andrew in 1992.
Hazel's winds were clocked at 240km/h at the North Carolina coast and kept roaring inland.
They were only slightly diminished by the time the storm reached Raleigh, 241km inland.
The storm destroyed an estimated 15,000 buildings and killed 19 people in North Carolina.
— AAP and AP.
© Nine Digital Pty Ltd 2018