The Boston Celtics are almost a completely new team from last season. Only four players from last years' upstart team returned this season – Jaylen Brown, Al Horford, Terry Rozier, and Marcus Smart. Through the draft, trades, and free agency, Boston acquired eleven new players*. Let's take a look at how they are doing at the midpoint of their first season in green.
Kyrie Irving, PG – 24.1 ppg, 3.5 rpg, 5.0 apg, 48% FG
Irving has been all the Celtics were hoping for so far this season. He is currently 12th in the league scoring and has twelve 30-point games despite averaging less than 33 points a game. What has really impressed me this season about Irving is his ability to pick his spots offensively. There are nights were Boston needs him to take over, and he does. Then there are other nights where he isn't quite as aggressive, particularly in games when the Celtics defense is dominant. For example, in Boston's 102-88 win over the Cleveland Cavaliers on January 3rd, Irving scored just 11 points, but grabbed nine boards and dished out six assists.
Jayson Tatum, SF – 13.9 ppg, 5.5 rpg, 46% 3PT
As the season has gone on, Tatum has only gotten more impressive. His ability to score from the perimeter, off the dribble, with a pull-up jumper, and in the post could lead to him being one of the most prolific scorers in the NBA in just a few years' time. He uses his length very well on defense and his basketball IQ is off the charts for someone his age. I can't recall a single time I've seen Tatum take an ill-advised shot. Another thing that's been great to see from Tatum is his explosiveness. As his confidence has increased, he has begun to attack the basket with a newfound ferocity. He and fellow wing Jaylen Brown make for a fearsome duo of rim attackers.
Marcus Morris, PF – 11.0 ppg, 5.0 rpg, 1.4 apg
The injury-bug has bite Morris this season; he's only played in 21 games thus far. When he's played, Morris has been fairly effective at stretching the floor (35% from three), but not overly efficient from the field (41%). He's a great on-ball defender, crowned the "LeBron stopper" thanks to his relative success guarding James. Once fully healthy, the Celtics would love to get a few more points out of him, but so far he has been exactly what Boston thought they'd be getting.
Aron Baynes, C – 6.0 ppg, 5.3 rpg, 18.5 mpg, 48% FG
Baynes has effectively taken over the role of Amir Johnson, who signed with the Philadelphia 76ers in the offseason. He starts most nights at center but doesn't play starting minutes. Despite averaging less than a block per game, Baynes is one of the most effective rim protectors in the entire league. He's a master of defending without fouling – going straight up with this hands in the air. His size and length make opponents think twice before coming to the paint, but when they do decide to venture in, Baynes forces them to change their shot last second. The result is an awful lot of plays that look like this from Caris LeVert of the Brooklyn Nets.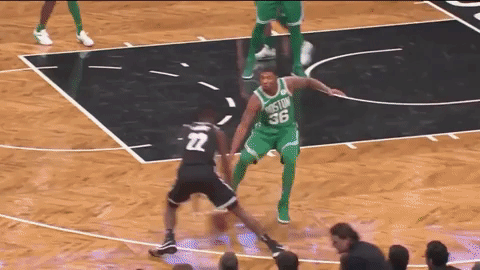 Head coach Brad Stevens picks his spots carefully with the next group of players. Most nights, they see limited time, but when the situation arises, these guys are ready to answer the call.
Daniel Theis, PF – 4.7 ppg, 4.2 rpg, 0.7 bpg, 13.2 mpg
The 2017 German League Defensive Player of the Year has proven worthy of that title this season. Like Baynes, Theis is very good at defending without fouling. His footwork also makes him a solid on-ball defender for his size. On the offensive end, Theis does the little things well – setting screens, rolling to the rim, and knocking down midrange jumpers. He'll even surprise you every now and then, like in the game against the Cavs when he traded threes with one of the best shooters of all time, Kyle Korver.
Shane Larkin, PG – 3.6 ppg, 1.1 apg, 1.2 rpg, 11.1 mpg
"Laaaaahhkin!!!" That would be Celtics announcer Tommy Heinsohn affectionately screaming Larkin's name on one of the nights that Boston's new little guy jump starts the team. Most nights, the stat sheet will read single digits next to Larkin's name, but there are games where his energy can turn the tides. He's a cagey defender and a crafty ball handler. Moves like this get the crowd, and his teammates, hyped like nothing else.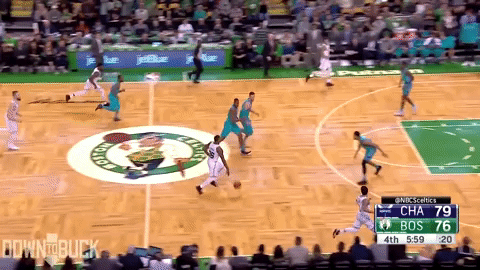 Semi Ojeyele, PF – 2.4 ppg, 2.0 rpg, 13.9 mpg
There are stat sheet stuffers, and then there are those who contributions don't show up in the box score. That's Ojeyele. His role as of now is a defender. In that same Cavs game, Ojeyele played 23 minutes and was matched up against LeBron for a good chunk of it. He hasn't shown much of anything on the offensive end as of yet, but in time he may develop into more than just a match-up defender.
We haven't seen a whole lot on the court from this next group of young guys.
Abdel Nader, SF – 2.0 ppg, 1.1 rpg, 7.9 mpg
Much like Ojeyele, Nader has had a couple opportunities to play meaningful minutes. On December 28, he played 21 minutes and notched five points and seven rebounds in Boston's comeback win against the Houston Rockets.
Guerschon Yabusele, PF – 1.8 ppg, 1.5 rpg, 4.9 mpg
The "French Draymond" hasn't played more than ten minutes in a game this season, but still manages to excite with his fun-loving antics. This was after he knocked down a three against the Miami Heat on December 20.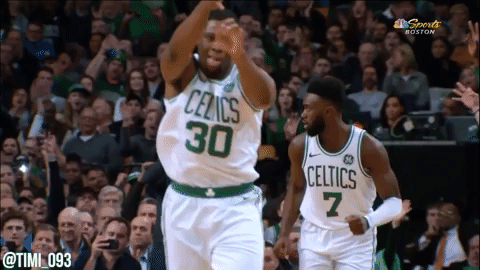 Jabari Bird, SG – 1.3 ppg, 0.5 rpg, 5.5 mpg
Kadeem Allen, SG – 1.0 ppg, 0.7 rpg, 2.7 mpg
These two have only seen time in garbage minutes. The Celtics are very crowded at the guard position, so it's hard to imagine either of these guys seeing significant court time for the rest of the season, let alone in years to come.
*Gordon Hayward is not included in this list due to injury.
If you would like to receive an email each time a new Boston Celtics article is published, fill out our email notification form.