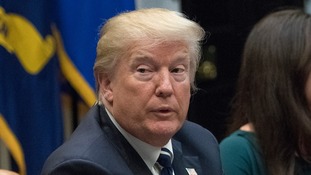 Donald Trump has denied using foul language during an Oval Office meeting about revamping rules affecting entrants from Africa and Haiti.
The president reportedly questioned why America should allow more immigrants from "s***hole countries", the Washington Post reported.
He is said to have made the remark as two senators described details of a bipartisan compromise that would extend protections against deportation for hundreds of thousands of young immigrants and strengthen the border.
Later the president appeared to tweet a denial, acknowledging the language he used in the meeting had been "tough", but adding "this was not the language used".
Sorry, this content isn't available on your device.
During the meeting, Mr Trump specifically questioned why the US would want to admit more people from Haiti, which in 2010 was struck by a devastating earthquake.
According to the Washington Post report he also mentioned Africa and asked: "Why are we having all these people from s***hole countries come here?"
When asked about the remarks, White House spokesman Raj Shah did not deny they had been made.
"Certain Washington politicians choose to fight for foreign countries, but President Trump will always fight for the American people," he said.
House Speaker Paul Ryan described the remarks as "very unfortunate", while the US ambassador to Panama, John Feeley, quit in protest.
The reported comment is remarkable, even by the standards of a president who has been accused by his foes of racist attitudes and a lack of statesmanship.
UN human rights spokesman Rupert Colville said of it: "I'm sorry, but there is no other word one can use but racist."
The Haiti government also weighted in, saying Mr Trump's comment as reported reflected a "totally erroneous and racist view of the Haitian community".
In a statement it said "these insulting and reprehensible statements in no way reflect the virtues of wisdom, restraint and discernment that must be cultivated by any high political authority".
As the uproar grew, Mr Trump tweeted again that he "never said anything derogatory about Haitians" and claimed to have "a wonderful relationship with Haitians".
Sorry, this content isn't available on your device.
In fact, Mr Trump has spoken positively about Haitians in public. During a 2016 campaign event in Miami, he said "the Haitian people deserve better" and told the audience of Haitian-Americans he wanted to "be your greatest champion, and I will be your champion".
However, the New York Times reported in December that during a June meeting the president had said Haitians "all have Aids".
And late last year the Trump administration announced it planned to end a temporary residency permit programme that allowed nearly 60,000 citizens from Haiti to live and work in the US following the 2010 earthquake.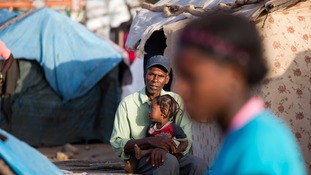 The meeting where Mr Trump made his comments had been aimed at ending a protracted and bitter dispute over protecting the "Dreamers".
During the meeting, Dick Durbin, of Illinois, the chamber's No 2 Senate Democratic leader, explained that as part of a deal, a lottery for visas that has benefited people from Africa and other nations would be ended, though there could be some other way for them to apply.
Mr Durbin said people who had fled to the US after disasters hit their homes, in places including El Salvador, Guatemala and Haiti, would be allowed to stay in the country.
Mr Trump said the US should allow more entrants from countries like Norway instead, after the president met this week with Norwegian Prime Minister Erna Solberg earlier this week.
Senators had hoped Mr Trump would back the proposal, but the White House later rejected it, plunging the issue back into uncertainty just eight days before a deadline that threatens a government shutdown.