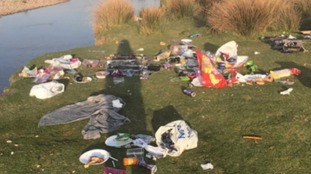 People have been left angry after beauty spots across the West Country have been left covered in litter over the last few days.
This Bank Holiday was the hottest May day weekend on record and it meant thousands took the chance to soak up the sun in a park or on a beach.
One group were shocked to be greeted by this grim scene at Cadover Bridge in Dartmoor on Monday.
Sorry, this content isn't available on your device.
We had to put 7 barbecues out, pick up endless amounts of food, raw meat & bones, loads of rubbish chucked in the water, picked up 5 dirty nappies with our bare hands & picked up more alcohol bottles than I could count.
It's absolutely disgusting & they shouldn't get away with it! Not only does it ruin it for those who enjoy going up there but it's also hazardous for the nature & animals that live there.
People are being reminded to take their rubbish home and help look after open public spaces.