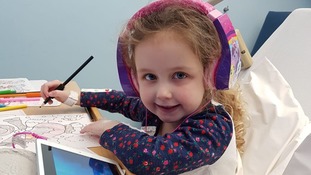 Mali Tallis, from Bridgend, was believed to be experiencing persistent water infections and after months of trying different antibiotics, Mali's condition continued to deteriorate.
Her parents, Sam and Steve, become increasingly concerned. Their daughter was losing weight and needed to use the toilet several times an hour.
After being referred to the Princess of Wales Hospital's paediatric department, tests revealed Mali's body was failing to produce a fluid-retaining hormone called vasopressin.
But when Mali was sent for an MRI scan, at the Noah's Ark Children's Hospital at UHW Cardiff, Sam and Steve believed it was just routine.
"I had a phone call in work saying that it was brain tumour. So that's when it obviously all hit home," said Steve, Mali's dad.
"One minute you're fine and then the next minute, I'd have silly thoughts in my head about birthdays coming up and things. It was difficult, really difficult."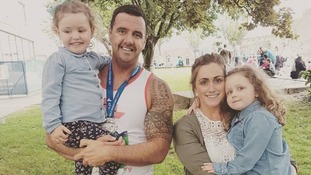 The scan revealed that Mali had three tumours, one on her hip, one on her leg and another on her brain and she was diagnosed with a condition known as Langerhans cell histiocytosis (LCH).
LCH is a rare condition affecting around 50 children in the UK each year. It has some typical characteristics of cancer, but unlike almost every other cancer, it can spontaneously resolve in some patients, while being life-threatening for others.
For Mali it was mixed fortunes. The tumour on her hip and the one in her leg had 'burnt out' on their own, but the one on her brain meant she needed treatment.
Following a year of chemotherapy and having to take steroids, Mali is now on the road to recovery and has just celebrated her sixth birthday.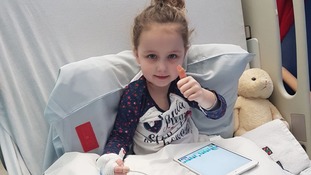 During her illness the Tallis's were supported by family and friends and the Children's Charity Dreams and Wishes.
Steve said fundraising for the charity is something which helped him cope. Even though Mali no longer requires treatment, he and his friends are continuing in their fundraising efforts to support others.