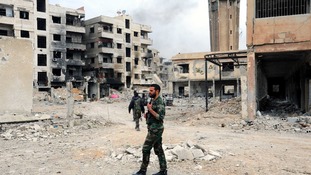 The Russian military says Syrian government troops are now in full control of the town of Douma in Syria – the site of a suspected chemical weapons attack over the weekend.
Douma, on the outskirts of Damascus, was the last rebel-held area in the eastern Ghouta region.
The Russian Defense Ministry said in a statement on Thursday that the situation in the town of Douma, just east of the Syrian capital, is "normalizing."
The Russian military also announced on Wednesday it would be deploying its own troops to Douma, as tensions escalate with the US and its allies over a possible military retaliation against Syrian forces accused of attacking its own civilians with poison gas.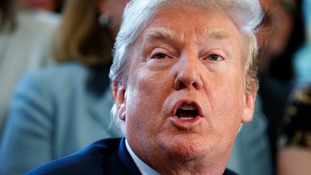 US president Donald Trump has told Russia to "get ready" for missiles to be fired at Syria, using Twitter to lambast Russia for being "partners with a Gas Killing Animal who kills his people and enjoys it".
Theresa May is convening an emergency Cabinet meeting to authorise a military response against Syrian president Bashar al-Assad's forces.
More than 13,500 Syrian rebel fighters and their families have left Douma this month under a so-called evacuation deal between the rebels and the Russian military, a top ally of al-Assad's government.
The Russian ministry says 1,500 left the town in the past 24 hours.
There was no immediate confirmation or indication from Assad's government that Syrian troops entered Douma on Thursday.