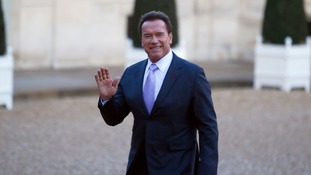 Arnold Schwarzenegger has updated fans on his health following heart surgery, saying he is "good" but "not great yet".
The 70-year-old Terminator actor and former California governor released a short video on Twitter updating his condition and thanking people for the support.
Seated at a chessboard, which he says he uses to freshen his mind and memory, he said: "I really appreciate that very much and you're very kind. I just want you to know that I'm feeling much better."
He added: "I can't say, even with my positive attitude, that I'm great because I'm not great yet, great is a totally different level, but I'm good."
He'd been admitted to hospital for open heart surgery, a scheduled procedure to replace a pulmonic valve originally installed in 1997 for a congenital heart defect.
Sorry, this content isn't available on your device.
He was released from Cedars-Sinai Medical Center in Los Angeles on April 6.
His spokesman Daniel Ketchell said his first words after regaining consciousness were of course, "I'm back," a play on his famous line from Terminator.
The Hollywood star, who moved from Austria to America aged 20, was an award-winning body-builder before becoming an actor and politician.
His career as an action hero took off with the box-office hit "Conan the Barbarian" in 1982 and he was propelled to superstardom in 1984 with "The Terminator". He also served as governor of California from 2003 to 2011.