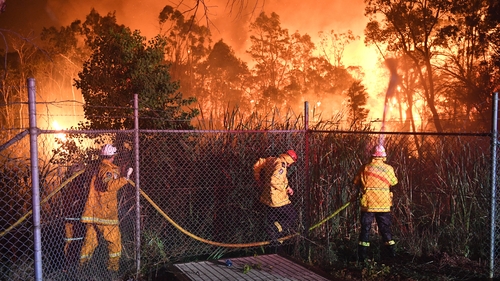 An emergency warning has been issued for an out-of-control bushfire that is raging across parts of the Australian city of Sydney.
According to the New South Wales Rural Fire Service, 500 firefighters are trying to control the blaze that started yesterday and has since destroyed 1,000 hectares of bushland.
Australian Prime Minister Malcolm Turnbull has addressed the public praising the efforts of firefighters and volunteers.
Mr Turnbull added that the "unseasonably hot weather" was a matter of great concern.
"It is unseasonably hot and that's a matter obviously of great concern but we have to deal with the worst that Mother Nature can throw at us and the worse Australians are presented with by nature the better it brings out the Australian spirit. "
No homes or lives have been lost, as New South Wales Police launched an investigation into the cause of the blaze.
New South Wales Rural Fire Service Commissioner Shane Fitzsimmons said: "We are seeing the fire behave very aggressively.
"It's spreading to the east and to the north and that's resulted in a number of emergency alerts being issued to different communities that are likely to be impacted by the fire."
Bushfires can be a familiar feature during Australia's hot weather, but police are investigating to try and find out what started the blaze. 
Investigators suspect it may have been deliberately lit.
While the fire has now been downgraded, there is concern that flying embers could spark new blazes.