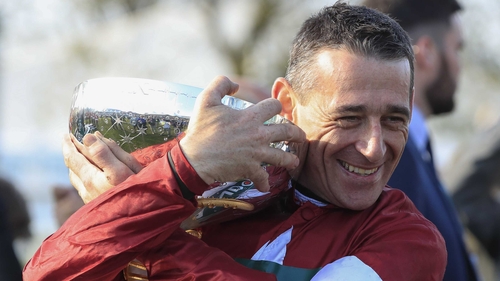 Davy Russell continued a glorious autumn to his career by steering Tiger Roll to a thrilling victory in the Randox Health Grand National at Aintree.
A dual Irish champion jockey, Russell's career has not been without the odd bump in the road and was famously informed he had lost the job as number one jockey for Gigginstown House Stud over a cup of tea with Michael O'Leary late in 2013.
However, his skills in the saddle have never been in doubt and just a few weeks after claiming the Leading Jockey Award at the Cheltenham Festival for the first time, the 38-year-old secured a narrow success in the world's most famous steeplechase aboard Gordon Elliott's Gigginstown-owned runner.
Russell said: "I've tried not to think about the race, to be honest. I heard some golfers last week saying you could over-prepare – I'm not sure if you can do that, but I came here thinking I was just going to go down the middle and to hell with everyone else.
"This is the race. As a kid, when you got the first cut of grass, we always used to gather the cuttings and pretend they were Grand National fences, it was the only time I liked collecting the cuttings, but all those people saying this is my first National – I've won it thousands of times in my head!
"As a jockey this is the one you want to win, especially for someone like me having 14 goes. On the way down the commentator said I was the oldest in the race so I thought 'I'd better not come back next year"'.
"The Gold Cup is the Gold Cup and I've been lucky enough to win that (aboard Lord Windermere in 2014), but the National is so hard to win."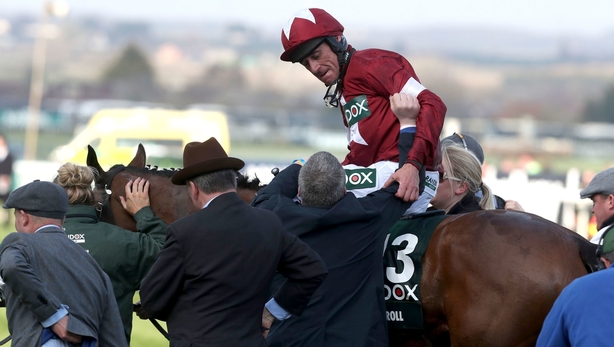 It has not all been plain sailing for Russell in recent weeks.
His mother Phyllis died at the beginning of March, while his close friend Pat Smullen, a multiple champion Flat jockey, was diagnosed with a tumour last month.
It is a measure of the man that only moments after claiming the biggest success of his career, he said: "This one is for Pat Smullen. I was speaking to him the other morning and he's as tough as nails."
With Elliott and his team planning to catch the ferry back to Ireland on Saturday evening, celebrations were likely to go long into the night at his Cullentra base in Co Meath.
However, Russell was planning to have a quiet one.
He added: "Gordon might be having a big celebration tonight, but I won't be, I'm riding at Tramore tomorrow.
"And I can't afford to retire, I've got four kids!"