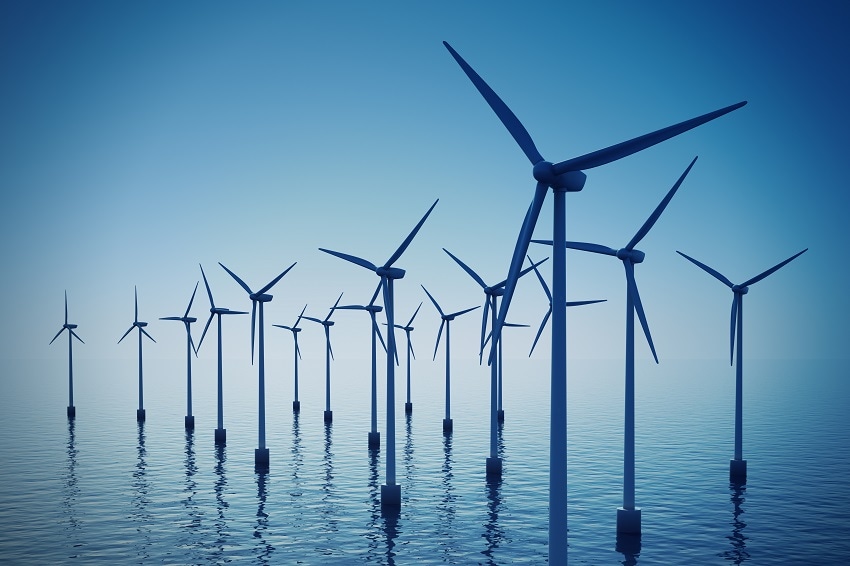 Image Credit: Shutterstock/DabartiCGI
Offshore wind farms are not a new phenomenon – the first was opened off the coast of Denmark in 1991. They are motivated by the desire to harness the strong sea breeze and consistent winds over the open ocean – where topography and human settlements don't get in the way of either the airflow or the large areas required to cover with wind turbines.
While onshore wind farms have their advantages such as easier to access for construction and maintenance, and often requiring less cabling to reach the nearest settlement, they also suffer from "wind shadow." This phenomenon, where turbines deplete the energy available to those downwind of them, reduces the potential for onshore wind below optimistic limits when constructed at truly large scale.
These problems can be avoided with offshore wind farms, which can cover larger areas and utilise the atmospheric dynamics over the oceans which allows efficient mixing of kinetic energy in the atmosphere at different layers above the surface. To make a substantial contribution to the energy needs of a modern, industrialised country, a combination of onshore and offshore wind power stations will likely be required.
Until recently, however, they were limited to relatively shallow water. The vast majority of wind turbines constructed used either "monopile" or "tri-pile" bases – vast constructions that allow them to stand on the ocean floor.
This becomes impractical when the ocean is greater than around 60m deep, requiring ever more ingenious designs. At some point, the larger bases become either physically unfeasible or economically unsound as an investment compared to other forms of wind turbine.
Yet the scale of renewable energy facilities that could make reasonable contributions to the energy supply of a country has to be vast. Consequently, the huge wind power potential available in the open ocean cannot be ignored. The US National Renewable Energy Laboratory (NREL) regularly calculates the total "technical potential" for different kinds of renewable energies, if all suitable sites are exploited.
According to NREL, up to 4 TW of total capacity could be generated offshore in Europe in waters that are more than 60m deep. Given that the total installed capacity of wind turbines globally is around 0.5 TW as of 2017, and grew by 10% in that year, this could be a huge source of energy. One solution to harnessing wind power in water this deep is using floating wind farms.
As well as the ability to harness this extra power, floating wind turbines could potentially be towed from place to place – adapting to the changing winds and changing requirements for power. They could better accommodate shipping routes, and perhaps ultimately require less capital cost to construct them: fabricated on land, they could be towed to a suitable location, rather than having construction crews in the deep ocean.
The oil and natural gas exploitation industry has demonstrated that, providing the economic incentive is there, we're more than capable of engineering floating structures in deep water. The world's deepest oil rig, the Perdido in the Gulf of Mexico, floats in a water depth of around 2.5 km. Floating wind farms have been discussed conceptually since 1972, but it took some years and substantial deployment of regular offshore windfarms to demonstrate that they could realise a profit – before people began to take this to the prototype stage.
Early prototypes consisted of individual turbines, dragged out to sea in the late 2000s. The aim here was data collection and proof-of-concept; technicians wanted to see both what the wind and sea conditions would be like for the turbine, whether it could float in the long-term, and how likely it was to be damaged by waves. In addition, the ability to supply energy back to the grid and the amount of energy that such plants could generate were important to measure.
Key, however, was ensuring that the floating platform functioned adequately, supporting the turbine without unacceptable levels of yaw, pitch, and roll. Given that this is the main enabling technology for floating wind farms, several companies trialled their own designs in this way, off the coasts of the Netherlands, Norway, Portugal, Sweden, the US, and Japan.
In 2017, the first floating wind farm was constructed by Statoil, off the coast of Scotland. It consists of five floating turbines that together can provide 30 MW of wind capacity. Offshore wind projects require greater amounts of power transfer and distribution cabling; constructing the floating platforms is more expensive compared to constructing a wind turbine on land; they then rely on the stronger offshore wind to be cost-competitive.
Consequently, offshore wind turbines are usually much larger in order to reduce capital costs: these floating wind turbines are 175 m tall, compared to 50-100 m in a typical onshore wind farm. The larger size means a greater capital cost, but also a higher generating capacity. Perhaps indicating that distribution can be a concern, as well as in order to address the intermittency problem that plagues renewables, the Scottish floating wind farm utilises a prototype 1 MWh lithium-ion battery system to store excess power at times when supply exceeds demand.
It is difficult to say for sure whether, in the long run, these floating wind farms are likely to become more cost competitive. Given that these are early prototypes, they are likely to follow the same rapidly declining cost curve as we've seen in solar photovoltaics and onshore wind as these technologies have matured.
As the sites for wind farms onshore and offshore gradually become saturated when the industry grows, floating offshore farms will only grow more attractive. Early signs from Statoil's Scottish wind farm are positive; in its first three months of operation, it has operated at 65% of its theoretical capacity: high for offshore wind farms which typically operate at 45-60% (onshore wind farms typically operate at between 30-50% of theoretical capacity.)
It has also endured a lashing from Hurricane Ophelia in this time. Statoil and other oil companies may be well-placed to harness the engineering skills previously used to construct floating oil platforms for a greener, more sustainable alternative; indeed, they are hoping to construct more Hywind projects of a similar kind in the coming years. Floating wind farms, however, will need more investment and patience before they will become true competitors.