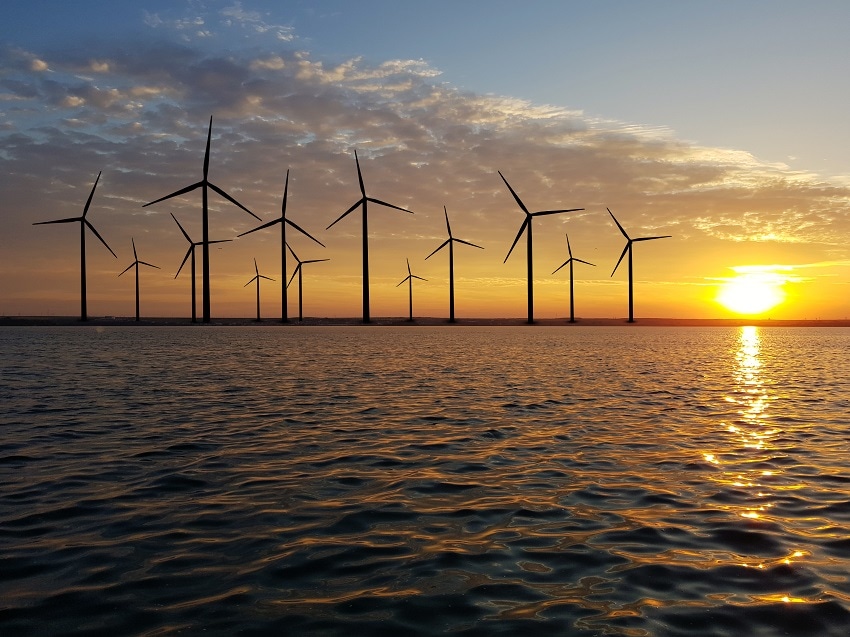 Image Credit: Shutterstock/Eviart
In 1991, Denmark initiated the first offshore wind project, and since then, commercial-scale facilities have been operating in shallow waters around the world, particularly in Europe as well as future projects that are expected to take place in the United States. Wind energy, which has been utilized by human beings for over two thousand years, acquires energy from wind that causes the blades of the turbine to spin.
These blades, which are connected to a drive shaft, convert this physical energy to electricity through an electric generator within the shaft. Offshore wind turbines are strategically placed in locations along ocean coasts to acquire the energy from strong winds that are generated in these areas.
By placing wind turbines in the middle of the ocean, the strength and uniformity of these winds have the potential to produce an impressive amount of energy as compared to traditional wind farms. For example, a turbine that is placed in a location with a typical wind speed of 16 miles per hour (mph) is estimated to produce 50% more electricity than a wind turbine that is placed in a location where the average wind speeds are 14 mph.
It is estimated that in the United States alone, approximately 50% of the total population lives along coastal areas, therefore the energy costs and demands of these areas can be extremely high. The use of offshore wind farms can therefore meet these energy needs, particularly in major U.S. coastal cities such as New York City, Boston and Los Angeles. In 2016, the Block Island Wind Farm, was the first offshore wind farm developed in the United States, however plans are currently in place for the development of future offshore wind farms in the United States.
A number of preliminary factors must be considered prior to implementing offshore wind turbines in a specified location. These factors include the water depth, the geology of the seabed and the wave loading in the area. Additional considerations on the marine environment of the potential offshore wind turbine location must be considered.
To prevent corrosion from damaging these wind turbines, automatic greasing systems are often utilized to lubricate the bearings and blades, whereas heating and cooling systems are also useful in maintaining the gear oil temperature within a specified range1. Turbines can also be protected from potential damage by lightening strikes through the implementation of specified systems. Wind turbine and towers at offshore locations are often painted in light grey or white to help blend these structures with the sky, thereby reducing visual impacts of these structures from the store. Additionally, offshore wind turbines are painted bright colors beneath the water's surface to increase navigational safety for passing vessels.
Although offshore wind farms can be expensive and somewhat difficult to build and maintain, a number of advantages are associated with the construction of off shore wind farms. For example, the wind speeds at off shore farm locations are typically faster and more consistent as compared to those closer to the coast, thereby improving energy generation at these locations.
Additionally, as populations in coastal areas are often greater than that which is present in other parts of the country, the rapid and environmentally friendly production of energy at these locations is especially desirable. As any renewable energy source, offshore wind farms do not require the consumption of water to operate properly, and also do not emit any environmental pollutants or greenhouse gasses during its operation2.
Offshore wind turbines are therefore a useful source of energy, and should therefore continue to be developed in locations around the world to further reduce the need for utilizing traditional energy sources.
References