LAS VEGAS — The Pac-12 women's basketball tournament is moving to Las Vegas after six years in Seattle. The league will hold both its men's and women's tournaments in Las Vegas in 2019 and 2020, Commissioner Larry Scott said Thursday.
The women's move is partly because Seattle's KeyArena is scheduled to be renovated, and partly because of the success of the men's tournament since it moved to Sin City in 2012.
Tickets sales have skyrocketed for the men since leaving Los Angeles, including the tournament's first sellout at the MGM Grand Garden Arena in 2016 and a record 87,000 tickets sold for the four-day event at T-Mobile Arena last year.
The women's tournament will continue to be held a week before the men's tournament, with games played at the MGM Grand in 2019 and at the Mandalay Bay Events Center in 2020.
Task-force findings: Scott will present the findings of the task force formed in October to the conference's presidents and chancellors Saturday and might release details after that. In the meantime, he abridged the information into four recommendations: eliminating the NBA's one-and-done rule, reforming recruiting among the AAU and sponsored-event circuits, liberalizing rules about athletes getting agents' advice and increasing NCAA enforcement of recruiting violations.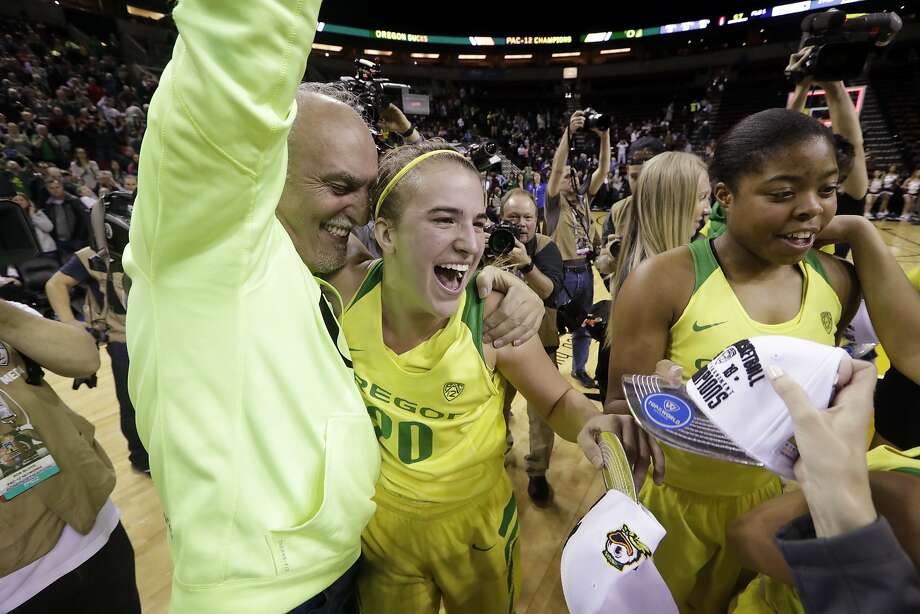 #1 Arizona 83, #8 Colorado 67: Dusan Ristic scored eight of his 16 points during a 16-2, second-half run that helped the tournament favorites pull away from the Buffaloes (17-14). Allonzo Trier scored a game-high 22 points and top draft prospect Deandre Ayton added 10 points and six rebounds for the Wildcats (25-7). Colorado trailed 42-39 when freshman point guard McKinley Wright IV went down with a right ankle injury with about 13 minutes to play, and 3½ minutes later, Arizona was ahead 58-41.
#6 Oregon 68, #3 Utah 66: The Ducks (22-11) erased an 11-point deficit in the closing 9½ minutes, and Kenny Wooten blocked Sedrick Barefield's potential game-tying reverse layup attempt at the buzzer. Oregon was led by Elijah Brown, who had 21 points on 7-for-12 three-point shooting. The Utes (19-11) got 16 points from David Collette before he fouled out with 1:02 remaining.

#2 USC 61, #10 Oregon State 48: Power forward Chimezie Metu had 22 points and 11 rebounds as the Trojans (22-10) dominated 32-14 in paint points and did not trail in the game. Oregon State's leading scorer, Tres Tinkle, was 4-for-14 from the floor, and the Beavers (16-16) were limited to 30.5 percent shooting.
Rusty Simmons is a San Francisco Chronicle staff writer. Email: rsimmons@sfchronicle.com Twitter: @Rusty_SFChron
Schedule
Friday's semifinals
6 p.m.: No. 4 UCLA (21-10) vs. No. 1 Arizona (25-7), Pac-12 Network
8:30 p.m.: No. 6 Oregon (22-11) vs. No. 2 USC (22-10), FS1