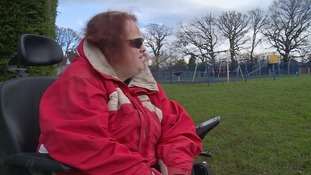 Wheelchair user Rachel Watt says she's had to struggle without any care at all because she simply can't afford it any more. Her view? Society's just becoming less caring.
It comes as councils struggle to prepare their budgets for next year. Many local authorities are increasing council tax bills – by up to 6% – as they see big reductions in funding from central government.
That includes Hampshire County Council where £56 million is set to be taken out of adult social care budgets.
And the Isle of Wight where a further £3.8 million in cuts to the social care budget have just been approved.
Even those councils that have managed to increase their spending on support – like West Sussex and Oxfordshire – say demand for services continues to rise and £2 billion of extra government funding isn't enough to ease the long term strain.
Our Social Affairs Correspondent Christine Alsford has this report: