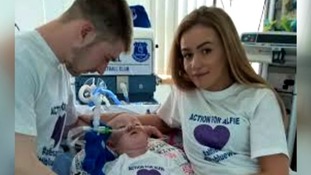 The father of a critically ill toddler from Liverpool has made a last desperate plea to a judge to keep his son's life support switched on.
20-month-old Alfie Evans suffers from constant seizures and specialists at Alder Hey Hospital say continuing life support treatment is not in his best interests.
Alfie's parents are challenging this view by medical experts. The judge has been shown videos of Alfie, which they say show he's able to respond to them.
The couple want permission to fly Alfie to a hospital in Rome for possible diagnosis and treatment
The judge is expected to to give his ruling on the case over the next couple of weeks.