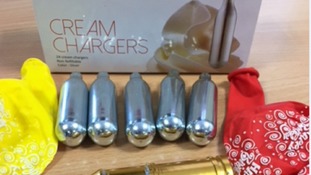 Police are warning people against inhaling a potentially deadly gas.
Gwent Police says it has had reports of young people inhaling gas from nitrous oxide canisters in the Caerphilly area.
The so called 'laughing gas', when inhaled, can lead to a feeling of euphoria, being relaxed as well as hallucinations and dizziness.
Using the gas in this way can also lead to an increased risk of death.
We're increasingly concerned about young people using this gas which can cause dizziness or affect judgement and may make people act carelessly or dangerously putting themselves at risk. Young people may think it's just a bit of fun but it can be hard to judge the amount to use safely and too much you can end up fainting, having an accident or much worse.
Mixing nitrous oxide with alcohol is especially dangerous as it can increase the risks associated with both substances and can lead to an increased risk of accidents or death. Our message is clear, please make sure you stay away from inhaling these substances.