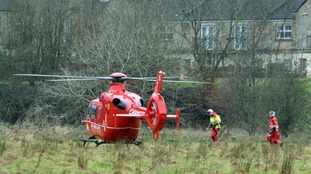 A five-year-old boy has died after being swept more than four miles down a fast-flowing river.
A multi-agency search commenced near Skye Park in Ballymena, County Antrim, just after 1pm on Saturday amid reports a child had fallen into the River Braid.
He was rescued more than 45 minutes later near Tullaghgarley and immediately airlifted to the Royal Belfast Hospital for Sick Children, the Community Rescue Service said.
The Police Service of Northern Ireland confirmed he later died.
Sean McCarry, regional commander of the organisation, said rescuers were "running desperately" after the boy, while a police helicopter observed from above and reported any sightings.
"The police were co-coordinating and telling us where we needed to go to next and we were just trying to get ahead of him in the river," he said.
"Eventually that happened and he was pulled out of the river and put into the air ambulance."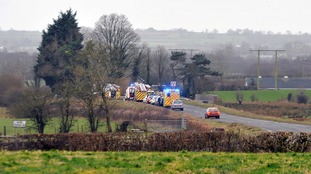 A Northern Ireland Ambulance Service spokesman said: "The thoughts of all involved in the rescue are with the young boy and his family."