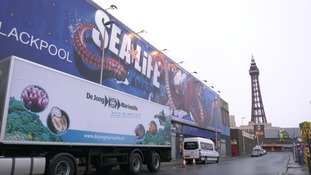 Watch the remarkable moment a 10-foot bowmouth guitar shark sets off on a journey to find his true love.
Boris, who lives at Sea Life in Blackpool, started his 300-mile journey to London this morning.
Waiting on the other side was Betty, his new long distance partner who lives at Sea Life, London.
The union is part of an important breeding and conservation programme which aquarists are hoping will lead to the birth of a baby shark.
However, their date was no easy rendezvous and involved a military style logistics operation. Boris, who weighs around 300lbs, had to be carefully lifted out of his main display area, using a special sling and hoist.
He was then delicately transferred by a team of aquarists to a special mobile tank inside a truck to start his journey down south.
The sharks are rare and distinctive ocean predators, with the head of a ray and the body of a shark. They're classed a a 'vulnerable' species, facing threats of being culled for their fins to use in shark fin soup, becoming tangled in giant commercial fishing nets, plastic pollution and habitat destruction.
Boris is due to return to his Blackpool home before Easter.